Raulerson Hospital offers a variety of Women's Health Services. From breast health to bone density screenings, and more, the professionals at Raulerson Hospital offer Women's Health Services in a comfortable and compassionate environment.
Raulerson Hospital is accredited by the American College of Radiology in all five imaging modalities, including Mammography, MRI and Ultrasound.
Common Conditions Treated by Women's Health Services
Breast Disease
Cysts
Tumors / Masses
Diagnostic Testing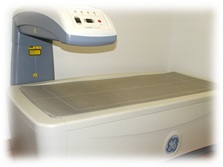 DEXA Scan for bone density screening
Digital Mammography Suite
Procedures and Treatments Performed by Women's Health Services
Stereotactic Breast Biopsy
Lap and laser for Endometriosis
Ablation
Contact Us
Location
Raulerson Hospital
1796 Hwy 441 North
Okeechobee, FL 34972
Our Mammography Suite is located 1926 Hwy 441. North within our Outpatient Radiology Department, in the blue-roof building just north of Raulerson Hospital.
How to Make an Appointment with Women's Health Services
To schedule your appointment, please contact: Central Scheduling at (877) 331-7027
Raulerson Hospital offers online pre-registration to save time on the day of your appointment or procedure. Once you have scheduled with Central Scheduling, you may choose to pre-register for your screening mammogram or test/procedure online.
Additional Resources
Physicians on our medical staff who treat women's conditions speak each October at our Women's Health Luncheon in honor of Breast Cancer Awareness Month. For more information contact Raulerson Hospital at (863) 824-2702.
Contact Consult-A-Nurse any time of day or night at (863) 763-9228 to:
Obtain a free physician referral
Ask a health care question
Learn about upcoming Hospital sponsored classes or events
For more information on Women's Health, visit the Women's Health and Wellness Center in our Health Library.