The highly trained Technologists at Raulerson Hospital utilize the facilities state-of-the-art equipment to diseases, conditions or injuries can be visualized and diagnosed.
Picture Archiving and Communication System (PACS)
We utilize PACS, a system dedicated to the storage, retrieval, distribution and presentation of images to the radiologist that also enables practitioners in different physical locations to access the same information simultaneously. The PACS system expedites the time from the test to the reading by our radiologist and allows your family physician to sign on to the internet and look at the same images.
Raulerson Hospital is accredited by the American College of Radiology in all five imaging modalities, including:
Radiation Right
Patient Safety is always our primary concern. Our priority is the right imaging exam, at the right time with the right radiation dose. We consider alternative exams to achieve the desired test result and minimize exposure to ionizing radiation. We verify that patients receive the right test or procedure using the Joint Commission Universal Protocol. We also follow nationally accepted guidelines to assure that we always give the lowest dose of radiation possible.
Read more about Patient Safety and Radiation at Raulerson
Imaging and Diagnostic Tools
MRI
Magnetic Resonance Imaging (MRI) is primarily a medical imaging technique most commonly used in radiology to visualize the body's structure in detail. This powerful tool uses a magnetic field instead of X-rays to produce high quality images in multiple planes.
Ultrasound
Ultrasound imaging is a noninvasive imaging technique that helps physicians diagnose and treat medical conditions by utilizing high-frequency sound waves to produce pictures of the inside of the body.
Nuclear Medicine
Nuclear medicine procedures are safe and painless. In a nuclear medicine test, small amounts of radiopharmaceuticals are introduced into the body by:
Injection
Swallowing
Inhalation
Radiopharmaceuticals are substances that are attracted to specific organs, bones, or tissues.
Amounts of Radiopharmaceuticals are carefully selected to:
provide the least amount of radiation exposure to the patient
ensure an accurate test
A special camera detects the radiopharmaceutical in the organ, bone or tissue and forms images that provide data and information about the area in question.
Nuclear medicine differs from an x-ray, ultrasound or other diagnostic test because it determines the presence of disease based on biological changes rather than changes in anatomy
CT Scan
Raulerson Hospital's GE 16 slice CT Scanner provides superior image quality. It utilizes X-ray technology to produce cross-sectional views of the body and its internal organs.
At Raulerson Hospital we perform:
All routine CT scans
CT angiography (CTAs)
Minimally invasive diagnostic and therapeutic procedures
Digital mammography
The system at Raulerson Hospital is considered among the most modern mammography equipment available offering outstanding image quality.
DEXA Bone Scanner
The DEXA scan is an x-ray scan that uses a small amount of radiation to measure the density of the bones for those at risk for osteoporosis.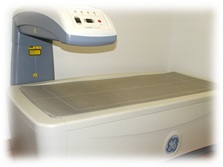 DEXA Scan for bone density screening
Digital Mammography Suite
Contact Us
Location
Raulerson Hospital
1796 Hwy 441 North
Okeechobee, FL 34972
Our Mammography Suite is located 1926 Hwy 441. North within our Outpatient Radiology Department, in the blue-roof building just north of Raulerson Hospital.
How to Make an Appointment
To schedule your appointment, please contact:
Central Scheduling at (877) 331-7027
Raulerson Hospital offers online pre-registration to save time on the day of your appointment or procedure. Once you have scheduled with Central Scheduling, you may choose to pre-register for your screening mammogram or test/procedure online. Register now.
Additional Resources
Contact Consult-A-Nurse any time of day or night at (863) 763-9228 to:
Obtain a free physician referral
Ask a health care question
Learn about upcoming Hospital sponsored classes or events