 Okeechobee, FL -- Raulerson Hospital honored its volunteers with a special luncheon during National Volunteer Week. Raulerson Hospital CEO Robert Lee thanked the group for their selfless dedication to patients and the community, noting their importance as the first faces many patients and visitors encounter when arriving at Raulerson Hospital.
The Volunteer of the Year was also announced during the luncheon. With a record-breaking 32 nominations, Janice "Jan" Troost was named Raulerson Hospital Volunteer of the Year. Jan volunteers in the Emergency Department in the Triage area. Her friends and family, including her twin daughters, were present to witness her surprise and excitement.
The nomination forms from Jan's coworkers had some lovely compliments about her such as, "Jan works very quickly and efficiently alongside the nursing staff in Triage. She speaks calmly and professionally to our patients and our staff. She makes a difference in our department!"
"Jan always has a smile and positive attitude. She shows genuine concern and compassion for our patients and staff. Working with here is a blessing. Her smile is contagious!"
Congratulations also went out to the other nominees for Volunteer of the Year: Florence Oake, Betty Head, Betty Bartle, Janet Berry and Sue Huddle. Check out and "like" Raulerson Hospitals Facebook page for more pictures of the fun event.
"In 2015, Raulerson Hospital volunteers and volunteens provided 14,225 hours of service," said Raulerson Hospital CEO Robert Lee. "Each and every one of our volunteers and volunteens impacts our patient care. We truly appreciate having them as part of our healthcare family."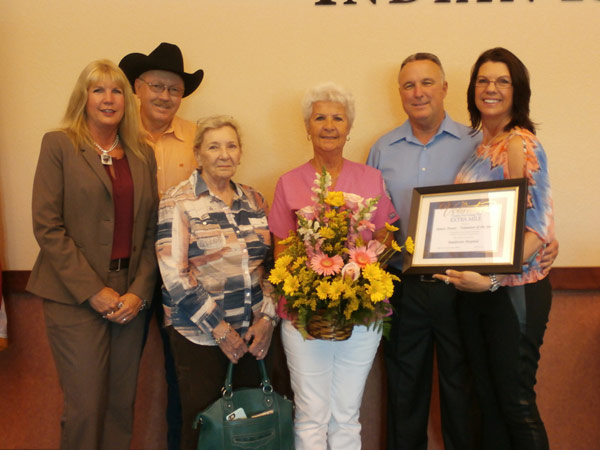 Raulerson Hospital has about 45 volunteers, most of whom work in the Main Lobby greeting patients and visitors, looking up patient room numbers for visitors and callers, providing directions and transporting patients via wheelchair upon their discharge. Some volunteers work within specific departments in the facility and some operate the volunteers' Gift Shop. Each year, the volunteers award some of the proceeds from their Gift Shop to local students pursuing careers in healthcare. Volunteers commit to providing four hours of service per week; either in the morning or afternoon. The facility does have seasonal volunteers. Volunteers enjoy a complimentary lunch in the cafeteria each day they provide their services. Teens age 14 and older are also welcome to join the volunteen program. They may volunteer after school hours and during the summer. Program details and applications to become a volunteer / volunteen, are available at RaulersonHospital.com.
News Related Content