If you think you or a loved one may be experiencing a medical emergency call 911.
Raulerson Hospital's Emergency Department offers service 24 hours a day, seven days a week, to patients of all ages. Our medical staff and nursing staff are specially trained to provide immediate treatment for any medical or surgical emergency and to initiate life-saving prodedures. Regardless of whether your emergency is major or minor, Raulerson Hospital is waiting to serve you.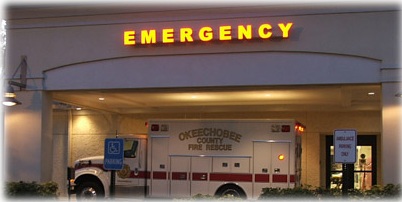 Advanced Life Support Trained
Pediatric Advanced Life Support Trained
Specialty Pediatric Equipment
Diagnostics
The Emergency Department utilizes the expertise of members of our medical staff, as well as the following hospital departments when diagnosing patients' conditions.
Radiology Department
Accredited by the American College of Radiology in all 5 imaging modalities:
MRI
Ultrasound
Nuclear Medicine
CT Scan
Mammography
Read more about our Radiology Department.
Laboratory
Accredited by the College of American Pathologists
What if a patient needs specialized treatment not offered locally?
Take comfort knowing that if a patient does require alternative, specialized treatment, we have a seamless transfer prcess with our sister HCA facilities in the Treasure Coast: Lawnwood Regional Medical Center & Heart Institute and St. Lucie Medical Center.
What to Expect During Your Visit to the ER
Triage - Nurses assess incoming patients according to the severity of their illnesses or injuries.
Registration - Patinet information is collected for the medical record.

If you are stable, you may have to wait for a bed to become available. You will, however, be made as comfortable as possible while you wait and the staff will keep you advised as to the status of your visit.


Pre-Treatment - We may begin treatment with blood collection and EKGs if necessary.
Provider Exam – The medical provider will examine the patient and the patient may be given discharge instructions or, if necessary, admitted to the hospital.
InformER
If you or a family member is in the ER, instant communication is key. Forget about being put on hold, getting mixed messages or being anxious about the situation. With informER you can get regular alerts in just four easy steps. informER is a new and revolutionary HCA Text Service that provides status updates to family members and friends regarding a patient's emergency visit. Learn more ».
Check our average ER Wait Times
Our focus on enhancing care and improving emergency processes has dramatically reduced wait times to below national averages. Wait times are updated every 30 minutes and are available:
by texting of ER to 23000

When Is It Really an Emergency?

It can be difficult to decide when it's time to go to an emergency room, and many patients may be reluctant to go. But emergency care saves countless lives every year. When should you go to the emergency room? The American College of Emergency Physicians (ACEP) suggests that patients come to the emergency room if they experience the following symptoms:

Abnormal breathing or shortness of breath
Pressure or pain in the upper abdomen or chest
Sudden dizziness, weakness, or fainting
Abrupt loss of vision, in one or both eyes
Sudden confusion or change in mental state
Bleeding that cannot be stopped
Persistent or severe diarrhea and/or vomiting
Vomiting or coughing blood
Trouble speaking
Sudden paralysis in the face or limbs, especially on one side of the body
Unusual pain in the abdomen
Head injury that causes vomiting, confusion, or unconsciousness

Children may also have additional symptoms that merit a trip to the emergency room. If the above symptoms occur in children, they should be taken to the emergency room. Additionally, children should go to the ER for the following conditions:

Burns that are discolored, deep, or larger than the child's palm
Chemical burns
Fever accompanied by rash or neck stiffness
Fever higher than 100.4 degrees in infants less than three months old
Drastic changes in behavior, including sudden irritability or mood swings
Seizure
Inability to stand or walk
Lips or skin that look grey, blue, or purple
Difficulty eating, drinking, or feeding
Delirium, confusion, or excessive sleepiness

If you believe that the medical condition is unstable or will worsen on the way to the hospital, call 911 immediately.

How long should I expect my treatment to take in the Emergency Department?

Our main goal is to serve everyone with caring and quality treatment as quickly as possible. We must prioritize and use our resources appropriately and effectively. The length of time you may spend in our Emergency Department depends on the following:

How quickly you are seen by a physician, which depends on the seriousness of your illness or injury
The types of tests you need in order for our medical staff to provide the best quality of care
How long it takes to get the results of the tests back.

Emergency Related Health Content

Stroke Warning Signs
Heart Attack Warning Signs
Dermatitis
Insect Allergies
Insect Bites
Bone Fracture (Broken Bone)
Food Allergy